A while ago, I had a craving for Teriyaki Chicken, and when I realized i had no Teriyaki what so ever in my kitchen, I rampaged the supermarket. And in the following days and weeks, I experimented like a real authentic mad scientist.
Here are my discoveries and a recipe you can tweak about a zillion ways!
What you
Absolutely NEED.
Teriyaki Sauces, Rice, Water.
What is Optional
Soy Sauce, chicken, porc, bacon, hot dogs, baby corn, chickpeas, tofu, beef, turkey, (I don't know about fish, so I won't venture into that avenue)
How to get there- AND - Please - Read this BEFORE you start cooking
Prepare yourself for one share of rice, 2 shares of water.
Your rice can be white, brown, long grain, short grain, which ever you use, but I would suggest a good Asian Long Grain Rice. Clean your rice in a bit of water and put that one portion of rice with 2 portions of water or a bit more in a pot that goes on the fire, preferably one with a cover. If you plan on making industrial servings, I recommend you use a rice cooker.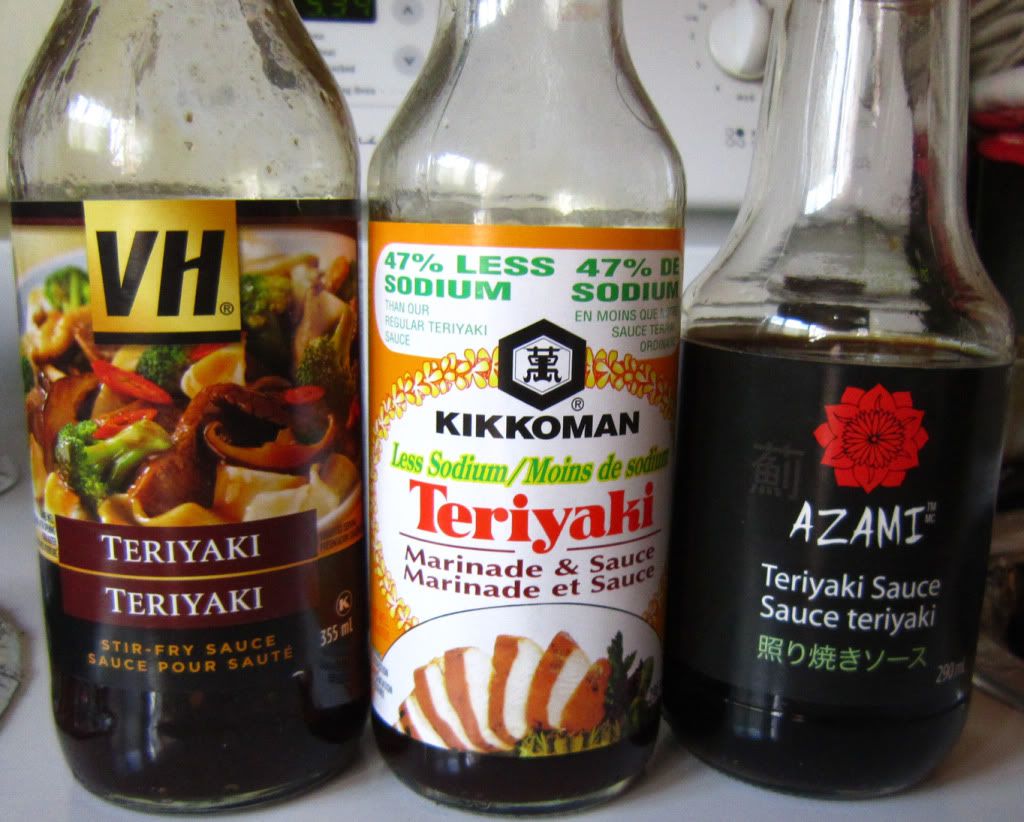 Here are 3 of my fave Teriyaki sauces. The VH is a bit thicker, the Kikkoman is more liquidy and the Azami is as liquid as water can be!
How to dose it properly :
Go with your instinct but do NOT abuse it !
For ONE share of rice, put 2-3 (not more) soup spoon of each into your pot.
If you make bigger portions, multiply but NOT with exaggeration, use your common sense.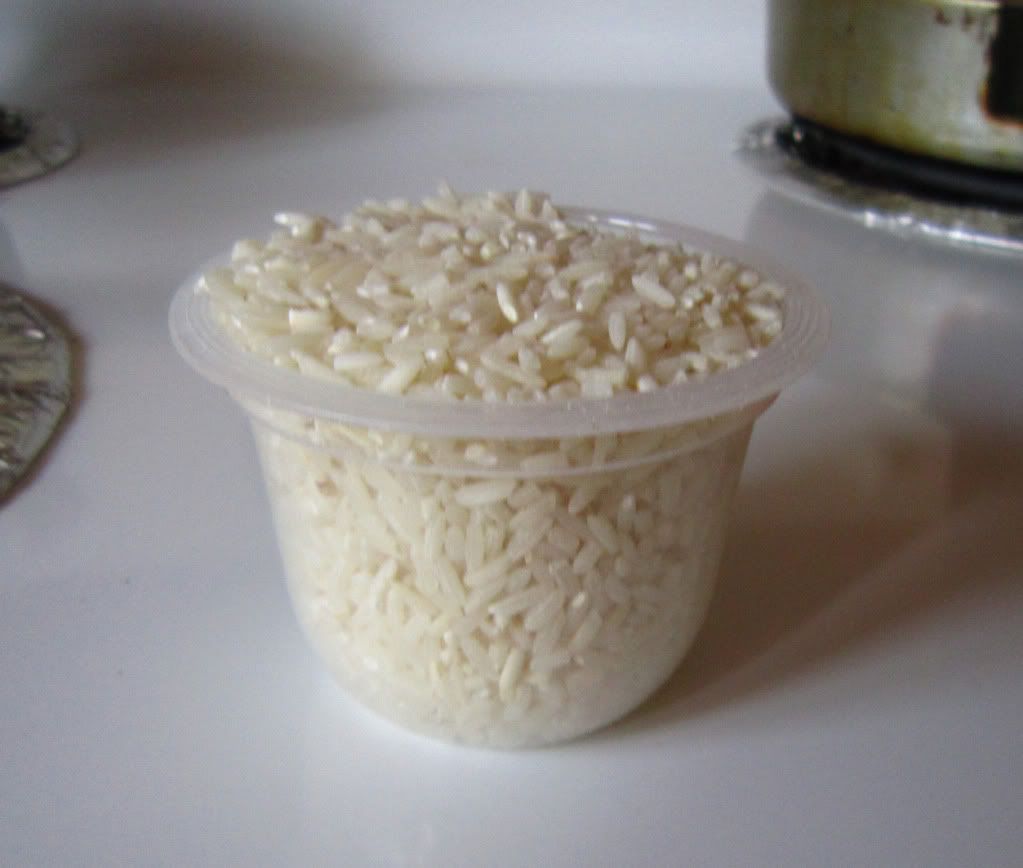 This is my one potion of rice - I used a small individual serving of fruit pudding container. If you'd use something like this,
the sum of your sauces shouldn't go above the 1/4 to 1/3rd of this (if you add in soy sauce) !
Remember - 1 serving of rice for 2 servings of water (even a bit more)
In that pot where you have put your rice and water and sauces, just sprinkle everything else. Bacon bits, hot dog bits.
If you want to make this recipe with pork, beef and chicken; Cook those Meats BEFORE you put in the rice. Those meets need a serious cooking procedure done, you should follow that.
In the case of chicken, put your chicken pieces in the mix of water and sauces with a tiny hint of oil. Let the water reduce until your sauce is thick. THEN you add your serving of rice and the needed amount of water. Let it reduce a second time. Ready to be served.
I personally love to add a bit of cheese to my mix. When the sauce is reduced by the boiling and starts to fry, the cheese gives the whole mix a gooey - crispy sort of a texture and of course adds its flavour to the mix.
In this picture : 1 serving of rice, 2 servings of water. 3 Teriyaki sauces, soy sauce, 2 chopped hot dogs, a bit of bacon (maximum 2 long lines cut into smaller bits), cheese on top (I'm not sure what type of cheese this is, it's somewhere between Parmesan and mozzarella)
Cover your pot.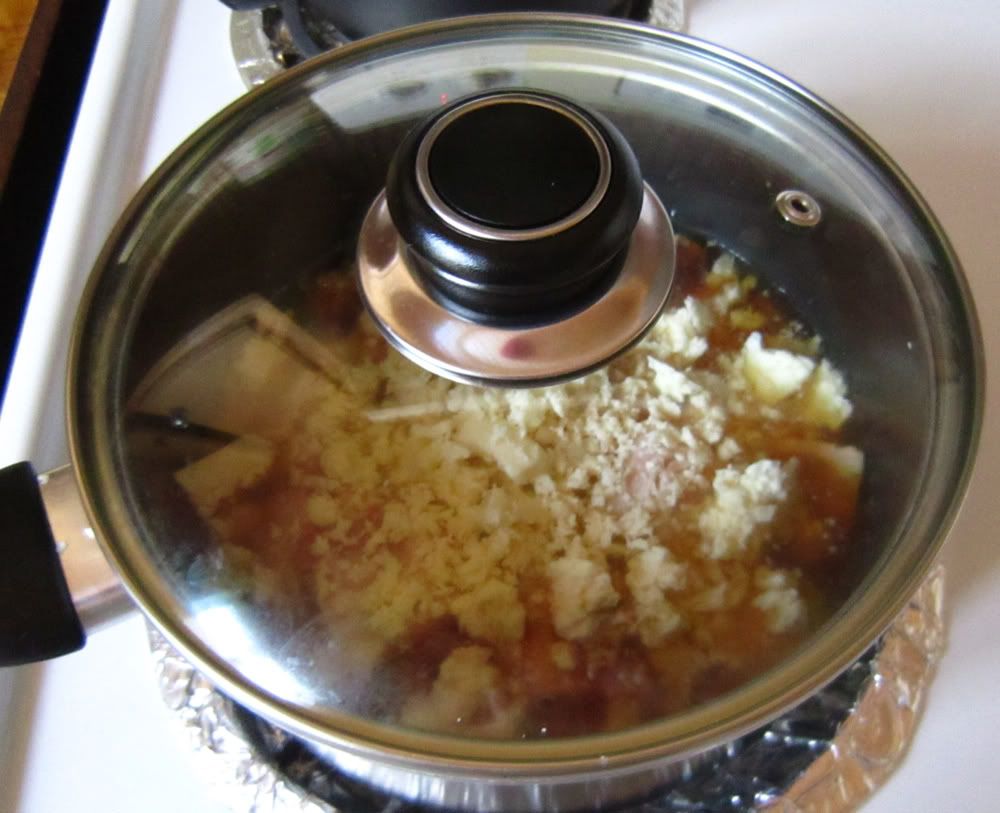 Ideally, if you have a cover with a little hole to let the excess vapour go out, it's recommended.
Open your fire and set it at medium for the first 10-20 minutes. Don't forget to stir it from time to time. You want the water to cook your rice and meat, you want the full flavour to stay inside the pot and get the excess vapour out. You want this mix to reduce the mix of sauces with the water.
When your mix is getting thicker - you will notice that there is less and less water at the top of the mixture - lower your fire to strength 2-3. (You have OFF, Low, 1, 2, 3, 4, MEDIUM, and going up towards HIGH)
Let it cook for another 10-20 minutes, but do keep an eye on it!
This is how it looks once it's completely done.
And now. Remember how we used 1 serving of rice ? Don't forget that with the addition of the meat, this is doubled! If you are alone, trust me, half of this will satisfy you just perfeclty!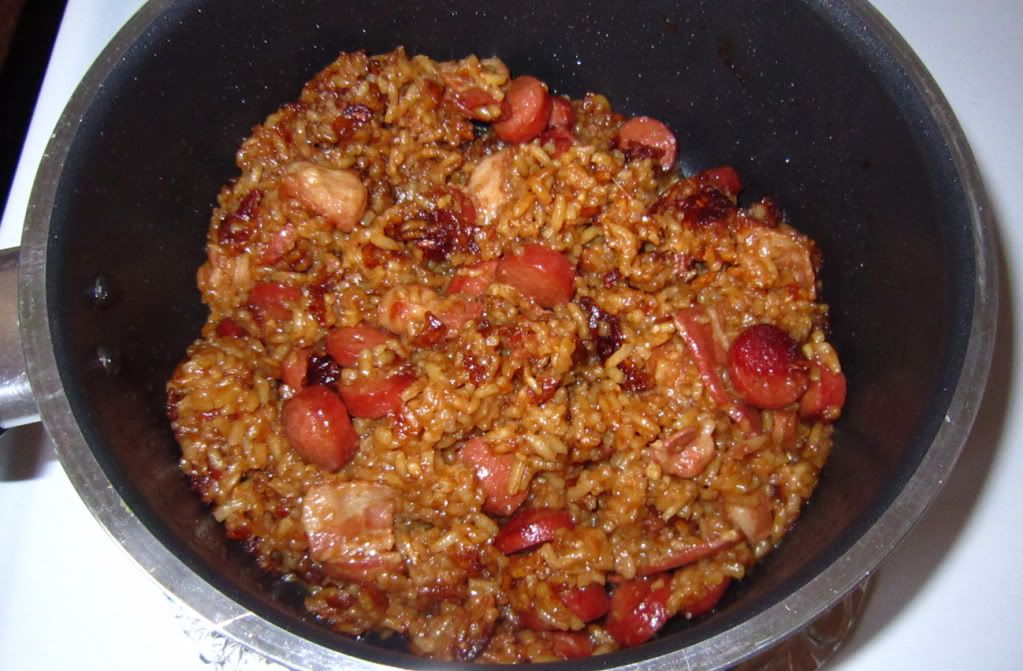 Doesn't this make you drool ?
If you are vegetarian : Replace the meat by tofu, baby corn, asparagus, green beans, chick beans, etc.
Add the vegetables at a later stage if you want them a bit crispier!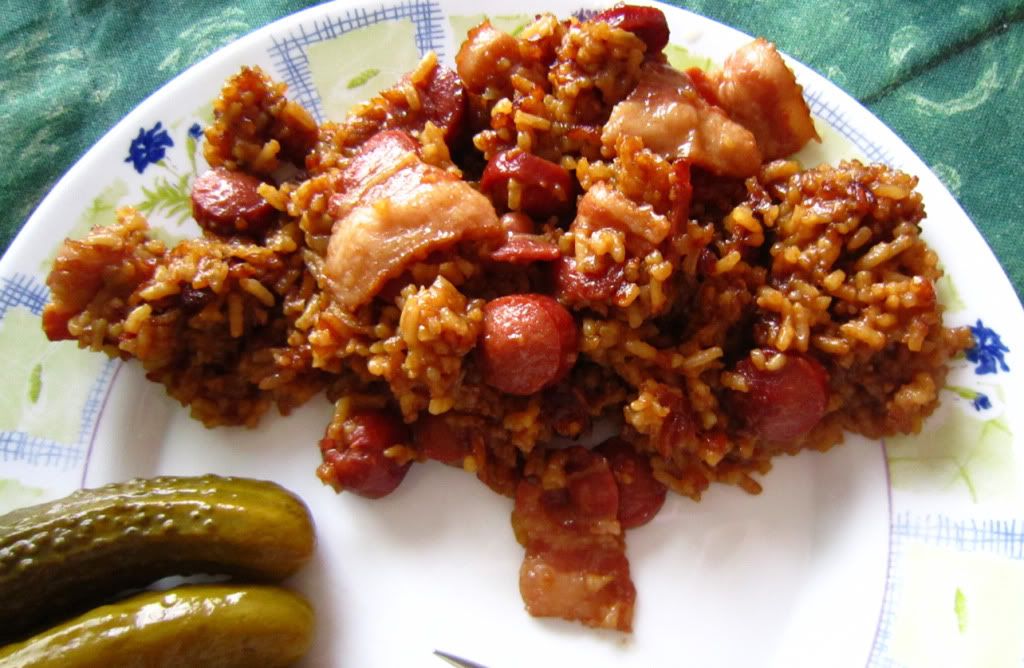 Serve with dill pickles, fresh cut tomatoes, lightly salted onions, or what ever side dish you have that is preferably cooler, crispier and refreshing.
Also excellent with a mug of fresh green tea, white tea or simply cold (but not too cold) water.
And Voila ! Bon appétit !
And don't forget. I used sliced hot dogs but you can use Tofu, vegetables, poultry, pork, beef.
And with this recipe, gives 2 portions ;) so it's perfect for either a couple's dinner or you just know what you will eat tomorrow too ;)